Audio Conferencing Units
Substituting business travel alone with a single conference phone can drastically cut costs, and show a positive return on investment often after a simple meeting. An audio conferencing solution means remote collaboration is available whenever it's needed, and with far less planning that a traditional face-to-face meeting. Communication can be as often as necessary, allowing for a more efficient business and improvement of both internal, and customer relationships – not forgetting that all important carbon footprint!
Gain a fast return on their investment as their teams easily collaborate "face to face" wherever they are
Cut the time, cost, and carbon emissions associated with gathering the right people in one place to solve problems
Apply saved resources, time, and energy to primary business and organizational challenges
We supply the full range of Radius and Plantronics Headsets, to order
call us on 03456 78 78 78

Polycom Audio Conferencing Kits
The industry leader in unified collaboration solutions
Polycom Voice Conferencing solutions have been the industry's leading audio conferencing solutions for more than 20 years. They have earned that loyalty through our excellent voice quality and relentless commitment to innovation.
Polycom's broad portfolio of devices ensures that businesses of all types and sizes can clearly hear and be heard, which improves your business productivity and delivers a seamless and natural communications experience.
Polycom Voice Conferencing Solutions:
Are optimized for Microsoft® and comprise a broad selection of conference phones and installed audio solutions for nearly any room environment
Deliver legendary voice quality so your attention remains focused on the critical tasks at hand
Deliver advanced audio capabilities that create more realistic meeting environments

Polycom Soundstation 2
The SoundStation2 is Polycom's next generation conferencing unit with such useful features as the convenience of being able to connect a mobile phone, plus an LCD display for productivity enhancing applications.
Superior voice quality
Easy to install
Standard analogue telephone jack
Excellent sound quality
Full 360-degree coverage
In-built mics – 3 Digital speakers
Full duplex operation (2-way)
Mobile phone connectivity
LCD display

Polycom Soundstation 2w Wireless
The Polycom Soundstation 2W is a conference phone without cords that gives you the freedom to conference anywhere team collaboration is important " even in rooms where there are no phone lines. With superior voice quality and using proven 2.4 GHz wireless technology with the added security of voice encryption and up to 24 hours of talk time with the extra ability to dial through a cell phone, the Polycom SoundStation2W is the new standard for everyday conferencing. The Polycom SoundStation 2W delivers voice quality that is twice as loud and provides twice the microphone sensitivity as the original SoundStation enabling clearer natural, two-way conversations. Our secure and proven 2.4 GHz platform provides simple and robust wireless capability with any analog phone line.
With reliable 150 foot wireless roaming from the base station, wireless frequency hopping to avoid interference, and a long lasting Lithium-ion battery, the Polycom SoundStation2W truly meets today™s needs for excellent voice quality and usage flexibility. Polycom SoundStation2W is also the first phone that combines cell phone convenience and Polycom voice quality. The standard headset cable provided enables users to instantly connect their cell phone to the conference phone. This mode gives users the option to dial directly through a cell phone or transfer between handset and conference phone mode during a conversation. Because the call is dialed through the cellular network, there is no need for an analog phone line" providing true portability and wireless freedom.
Acoustic clarity technology for natural, simultaneous two-way conversations
High performance mics and speaker for the best conferencing experience possible Talk from two to 10 feet away from a mic and still be heard on the far end Enough talk time to go wireless for a week without recharging Works like a traditional conference phone, no training required, just set it up and go.

Polycom Soundstation IP 5000
Advanced IP conference phone with Polycom HD Voice clarity, designed for small conference rooms and executive officesThe Polycom SoundStation IP 5000 conference phone delivers remarkably clear conference calls for small conference rooms and executive offices. It features Polycom HD Voice technology, broad SIP interoperability, and a modern design that is ideal for smaller rooms"all at an affordable price.With Polycom HD Voice technology, the SoundStation IP 5000 conference phone boosts productivity and reduces listener fatigue by turning ordinary conference calls into crystal-clear, interactive conversations. It captures both the deeper lows and higher frequencies of the human voice for conference calls that sound as natural as being there.For all calls, the SoundStation IP 5000 conference phone delivers advanced audio performance that is designed for executive offices and smaller conference rooms with up to 6 participants. From full-duplex technology that eliminates distracting drop-outs to the latest echo cancellation advancements, only Polycom can deliver a conference phone experience with no compromises.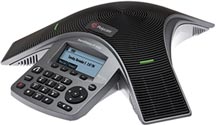 Conference calls are made more productive and efficient by three sensitive microphones with 360 degree coverage that allow users to speak in a normal voice and be heard clearly from up to 7 feet away. The phone also features technology that resists interference from mobile phones and other wireless devices, delivering clear communications withoutdistractions.Integrated Power over Ethernet (PoE) simplifies setup, with an optional power supply available for non-PoE environments. Plus, the SoundStation IP 5000 conference phone includes a high-resolution backlit display for vital call information and multi-language support.
Ideal for up to 6 people
HD Voice
Broad SIP Interoperability
7-ft Microphone Pick-up range
Integrated Power over Ethernet (PoE)
Hi-Res display
Optional PSU

Konftel Audio Conferencing Kits

Konftel are a leading manufacturer within audio conferencing solutions. Since 1988 their mission has been to help people around the world to conduct meetings despite distances. Based on their success, they know that audio conferencing is a great way to save time, money and at the same time contribute to a better environment.  Good quality is essential for efficient meetings and that is why our patented audio technology OmniSound®, is built into all Konftels' phones.
Konftel deliver a reliable audio conferencing solution where your meeting experience is put first. Our conference solutions are developed with the user in focus in order to provide easy-to-use products with excellent and clever design. Konftel strive to be innovative in everything they do and are strongly committed to continue to build a close and personal relationship with all their clientele. With 2 year Guarantees you can rely on Konftel, in all your meetings.

KONFTEL 250
Konftel 250 is an excellent choice when holding telephone conferences without compromising sound quality. The Konftel 250 is equipped with Konftel's patented OmniSound 2.0 audio technology, for crystal-clear sound. Save your contacts in the phone book and use the conference guide to easily set up multi-party calls or pre-programmed group calls. Konftel 250 also has a built-in recording function that enables you to record your calls on an SD memory card. With its modern Scandinavian design, Konftel 250 will be a welcome addition to any conference room. It's also ideal in larger settings with the addition of optional expansion microphones. Hold productive telephone conference meetings that not only save time but the environment as well by cutting travel expenses.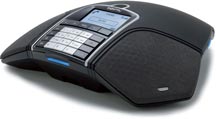 Konftel 250 is the obvious choice for analogue connection and it simply gives the best value on the market " great sound, packed with features and expandable too.
OmniSound 2.0 crystal-clear sound.
Analogue connection.
Conference guide that simplifies multi-party calls.
Record your meetings on an SD memory card.
Store your contacts in the phone book.
Expansion microphones can be added to increase the voice pickup range.
Two-year warranty.

KONFTEL 300
It features connectivity options for loudspeaker equipment, headsets and additional microphones – making it ideal for talks and lectures in larger meeting rooms. The Konftel 300 can be connected to analogue telephone lines, mobile phones, wireless DECT telephones and computers for VoIP calls. The most exciting developments are the built-in recording capability, a unique conference guide with number recall memory, as well as a host of other new features, all easily accessible through the large display screen.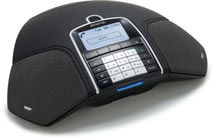 SD memory card input – Record your meetings & listen on the phone or computer (optional)
Connectors for expansion microphones, external loudspeakers or wireless headsets (optional)
A mini USB allows the phone to function as a loudspeaker & microphone during wideband VoIP calls
The Line Mode function enables you to combine & easily switch between different connection methods – analogue, USB, GSM/DECT
The unique conference guide helps you set up multi-party calls, the phone numbers you  call most often can be stored in groups