Cordless Business Phones
Cordless handsets have long been an add-on to telephone systems. These enable mobility around smaller areas. We have repeater stations to add to larger areas and even fully integrated DECT incorporated into our Telephone Systems.
For pricing and more information on our Cordless Phones,
call us on 03456 78 78 78
Panasonic KX-TG6811EB SGL DECT Black
Wonderfully designed phone with 1.8 inch screen
Noise Reduction Function
Smart Key Function
Incoming Call Barring
One Touch Eco Mode
Advanced Alarm Clock
Caller ID with 100 Name and Number Phonebook.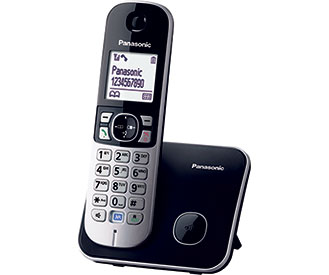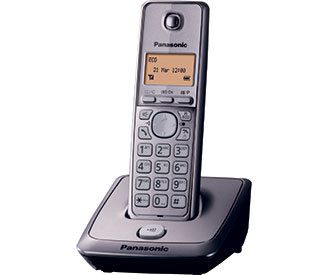 Panasonic KX-TG2711EM DECT Titanium
Ideal phone for those on a budget or looking for value. Has the essential features including 50 Name/Number Phonebook,Caller ID and Speaker Phone
1.4 Inch LCD Screen
Hands free Speaker Phone
50 Name & Number Phone book
Caller ID• Clear Sound Technology
Alarm Clock
Wall Mountable

Diverse 7110 Plus Single DECT Phone – Black
The BT Diverse 7110 Plus digital cordless phone is the Diverse Repeater compatible version of the BT Diverse 7110. It is the entry level model in the BT Diverse Plus range. In total up to 5 cordless handsets can be registered to the BT Diverse 7110 Plus base station, ideal for locating handsets in other rooms anywhere within its range and without the need for a further phone socket as the handsets work remotely from the main base station. Usually indoors this range is up to 50m and outdoors up to 300m.
100 name & number phonebook with copy between handsets
Hands free
Four-line display with backlight
Text Messaging
Caller display
Volume control, hands free,
Headset socket,
Belt clip.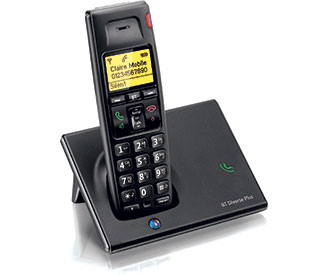 BT DECT Repeater
BT DECT Range Extender for use with Repeater compatible Diverse & Freestyle ranges. The BT DECT Repeater boosts the range of your existing compatible DECT telephone base station by up to an extra 50m (indoors) and 300m (outdoors).
Suitable for use with the following BT DECT Telephones:
BT Diverse 7000 Plus Range
BT Diverse 6210, 6250, 6350, 6410, 6450
BT Freestyle 7250 & 7310
Automatic call handover from the Repeater to the base station.
Easy installation.
Wall mountable.