Business Internet Solutions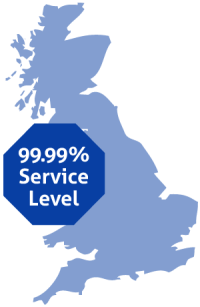 Here at Octagon Communications we are able to offer an entire business internet connectivity package to meet the needs of any business across the UK Mainland.
We have direct access to a multi million pound business grade network with product dependant service level guarantees. We understand that the majority of UK businesses now depend on internet connectivity and in most cases without connectivity your business couldn't operate.
Our direct in house access to your data connection allows us to monitor and manage your connection 24-7, 365 a year with a 99.99% service level*.
Our product portfolio ranges from standard connectivity right the way up to EFM and Ethernet services which offers 99.99% service levels with business grade Cisco equipment provided as standard.
Why is the network important?
What does this mean to our business?
When buying any data product from Octagon we only use a business network.
Some of our competitors use their own network for business and consumers together which can cause determent to your business connection due to the extra downloading traffic.
Products such as Ethernet First Mile (EFM) and Ethernet have fully diverse routing. Meaning other events across the UK will not impact your connection as the service is rerouted past any effected parts of the network.
Our Business Internet Choices