Video Conferencing
Connect Your Teams By Video…
…from any room with a conference phone to anyone, anywhere!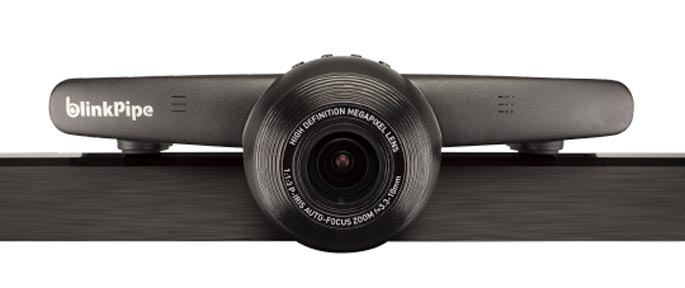 'Just Dial' BlinkPipe Room System
It's time to take a fresh look at meeting room HD video conferencing. No more huddling around a laptop webcam. No more eye-watering quotes for telepresence projects. No more test calls, logins or asking for IT help. With BlinkPipe connected to your meeting room TV and conference phone you simply walk in, sit down and dial. That's it.
'Just Click' group video from anywhere
The meeting room is still the heart of group collaboration, but work today expects participation from anywhere. That's why the BlinkPipe Hub conferencing service brings together our high quality room systems with convenient web browser video conferencing for PCs and Macs. Dial a conference number from a room system, or click a link in a meeting invite to join from anywhere
To find our how our Video Conferencing service can save you time and money,
call us on 03456 78 78 78
Simplicity – just dial your existing conference phone as normal, or click a web link.
Reliability – voice over the phone & video over the internet means your discussion is never disturbed by busy networks.
High quality – wide angle HD images with 3x optical zoom and auto-framing technology.
Everyone included – BlinkPipe Hub allows group video calling between BlinkPipe cameras, PCs and Macs.
Enterprise – BlinkPipe delivers 'just dial' access to the market-leading Blue Jeans® service, for interoperability with almost all other VC vendors.
Low risk – Affordable pricing with flexible subscriptions, plus the reassurance of remotely managed hardware and software.


720p HD video on a big LCD TV captures superb detail while presenting participants life size
Crisp, vibrant images thanks to an all glass multi-element zoom lens and face-tracking AF.

The top-level standard for best quality video even on limited network connections.

BlinkPipe traverses firewalls automatically so you can call outside your company without IT support.

BlinkPipe can automatically switch the TV on and put it on the right channel for your video call.

BlinkPipe works out where you are and automatically adjusts tilt and zoom to present the best picture.
| | | | |
| --- | --- | --- | --- |
| | FREE | BRONZE | SILVER |
| Automatic remote software updates | Critical | Unlimited | Unlimited |
| Point-to-point 'Just dial' video calling | | | |
| MyCameras camera admin portal | Basic | Analytics | Analytics |
| Technical support | Community | Email | Phone |
| Extended hardware warranty | | | |
| BlinkPipe Hub host user accounts | | | Unlimited |
| BlinkPipe Hub meetings from a room system | | Join | Host |
| BlinkPipe Hub meetings from a web browser | | Join | Join |
| Blue Jeans® meetings from a room system* | | | |
| Windows and Mac screen sharing | | | |
*Requires subscription to Blue Jean® service